MES & SPC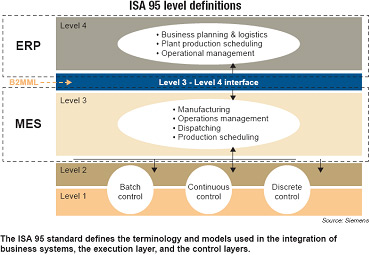 Modern process and industrial plants have significant investments in DCS, PLC, SCADA Robotics, Motion and other Control Systems. These have provided companies with major improvements in efficiency and cost reduction through enhanced production level information. However, they are usually independent of the Business Management Systems.

In today's world to maintain a competitive position & minimise risk to business, further improvements in performance can only be achieved through a holistic approach to systems: Enterprise Wide.

Previously information was normally passed between the Control / MIS and the Business Management Systems manually. This provided a limitation in both the amount of data which could be transferred and its time currency.

MES systems collect data from the Production Floor Control Systems and convert this into information that can be used by the Business Management System in "Real-Time" providing up to the minute information on factors such as efficiency, waste and energy usage. This empowers management and staff to make more accurate analysis and improved decisions.

With limited budgets and simpler objectives moving toward a full blown MES solutions can be expensive, daunting, disruptive to operations and lacking in focus on the business goals. ies can overcome this problem with a simple modular approach. By decoupling the individual targets of MES and introducing these individually, tighter control and faster paybacks can be achieved. The modularity also simplifies the onward development of the MES system as other targets are identified and confidence of implementation is realised.



Typical focus of MES:
Quality Improvement
Productivity Gains
Downtime Reduction
Waste Reduction
Energy Usage
Regulatory Compliance
Safety
Disaster Recovery
Obsolescence
IES MES applications
OEE (Overall Equipment Efficiency)
Asset Management
EBR (Electronic Batch Records)
De-Bottlenecking
Workarounds
Waste Reduction
Energy Monitoring & Utilisation
Quality – Six Sigma, TQM
Tracking & Tracing
SPC
Statistical process control (SPC) is a method of quality control which uses statistical methods. SPC is applied in order to monitor and control a process. Monitoring and controlling the process ensures that it operates at its full potential.
At its full potential, the process can make as much conforming product as possible with a minimum (if not an elimination) of waste (rework or trash). SPC can be applied to any process where the "conforming product" (product meeting specifications) output can be measured. Some key tools are used in SPC.
These include control charts; a focus on continuous improvement; and the design of experiments. An example of a process where SPC is applied is manufacturing lines.